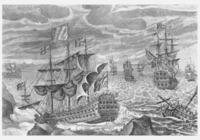 1707 was a tragic year for the Islands as it was in this year that a large proportion of the British Navy fleet were wrecked off Scilly. As the fleet was returning home victorious, the fleet's longitude was misjudged and in bad visibility, the flagship Association along with others of the fleet were wrecked on the western approaches. Sir Cloudsley Shovel was the commander of the fleet and the most respected officer of his day. He had ignored earlier warnings that the ships were off course; one crew member had smelt the burning kelp pits which were so synonymous with Scilly. The flagship Association was wrecked on the Gilstone losing all of her crew, other ships were scattered amongst the Isles, only very few managing to negotiate their way clear of ledges and rocks around the Islands.
Job: Naval Vessel
Shipping Company: British Royal Navy
Incident
Difficulty: Ran aground, sank
Date: 1707
Location: The Gilstone
Sir Cloudsley Shovel was washed up on Porth Hellick beach on St Mary's, as the legend states, he was still alive until a local woman murdered him in his weakened state in order to steal his ring. Some reports say that the local bit Sir Cloudsley's finger off in order to retrieve the treasure. The Naval officer was buried in a simple grave which can still be seen in the form of a granite headstone at Porth Hellick, however, the body was exhumed and reburied in Westminster Abbey soon afterwards. It is estimated that hundreds of people drowned on that fateful day and Scilly became the final resting place for officers to ordinary seamen.
This tragic event was undoubtedly of great national importance and was arguably the most famous period of Scilly's history. The news would definitely the talking point of the day and the catastrophe triggered the competition for an instrument to measure longitude which eventually saw Harrison's famous timepieces.