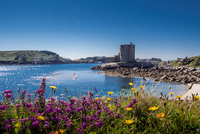 The Isles of Scilly is a group of islands 28 miles south-west of Land's End. They contain five inhabited islands and over 200 uninhabited islands. The largest and most populated island is St Mary's, which has a port and an aerodrome, from which commercial aeroplanes fly. Tresco, which is privately leased, is second largest island in the archipeligo. The three other inhabited islands are St Agnes, Bryher and St Martin's. There are also some popular uninhabited islands such as Samson and some of the Eastern Isles.
The Scillonian III, owned by the Steamship Company, is the main ship sailing between the Islands and mainland Britain. Usually she sails 6 days a week in the summer, leaving from Penzance at 9:15am except on some Saturdays. The Scillonian can carry up to 600 passengers and also carries cargo to the Islands. The Steamship Company also run a freight ship called the Gry Maritha which runs all year round.
British International discontinued their helicopter service in the winter of 2012.
SkyBus is the airline that flies from Land's End to St Mary's, also throughout the year, with flights up to every half-hour in the summer. The Skybus service also offer flights to The Islands from Newquay, Exeter and Bristol on their Twin Otter aircraft. Skybus is owned by the same company as the Scillonian, the Steamship Company. Transport is provided for Lands End passengers from Penzance train station.
There are pleasure boats which shuttle between the Islands, as well as operating special trips around the Islands. Each island has it's own boat service operating trips to all the other islands regularly. Evening trips and specialist trips such as birdwatching, fishing and sunset trips to uninhabited islands are also run by most of the boat operators.
See also