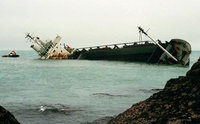 Just after 3:00 am on 26 March 1997, locals walking their dogs realised an unpleasant but very interesting addition to the skyline of Porth Hellick – a 3000-tonne cargo vessel.
A couple of hours earlier the RNLI and RNAS Culdrose's rescue helicopter had been out rescuing the crew of the German-owned Antiguan-registered "MV Cita". All crew were safe and well.
Soon after word had spread around the St Mary's and surrounding Islands, locals went to the shores to "clean up" the shoreline that had now been littered by containers washed up on the shoreline.
Fishermen and drivers went around the Islands towing in loose containers, later to claim salvage on them. Computer mice, car tyres, tobacco, house doors, women's summer shorts were contents of containers wrecked around St Mary's. There were fabelled jet skis that some lucky Cornish fisherman had towed ashore as containers floated as far as mainland Cornwall.
A couple of months later, St Mary's Quay had several containers moored alongside by local fisherman, waiting for them to be sold back to the shipping companies or for scrap.
According to David Martin-Clark, the reason behind the wrecking of the cargo vessel was due to "the watch-keeping officer had fallen asleep and the watch alarm had been switched off."