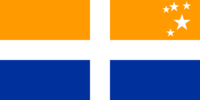 Scilly News and 400 of it's readers spent two months developing a flag for the Isles of Scilly community. The result was the Scillonian Cross. Now a leading flag producer is selling the flag.
The Islands now have their own flag to fly on their boats and properites.
The Beginnings
In January and February 2002, Scilly News launched a major campaign to make a flag for the Isles of Scilly so that the Islands had a symbol of their unique identity.
Initially a few suggestions were posted on Scilly News and readers offered their opinions on whether or not they thought the differing designs were appropriate for the Islands. Not much came from this initial vote.
The Development
After a further vote on which components should be included on the flag, it was decided that five-five pointed stars (indicating the Islands' size and position) was the best symbol for the flag.
Further flags were drawn up incorperating these five stars and a third vote was launched. The Scillonian Cross got around 50% of the votes, the other eight designs shared the other 50%. After 400 votes, it was declared that the Scillonian Cross was the favourite flag for the Islands.
The Council's Flag: A symbol of the Council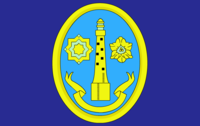 In March/April, the Council told us that they too had plans for a flag. Their final design was launched on 6 August 2002. The Council's flag will mainly be for official Council use, flown at the Town Hall, the Airport and other Council properties.
Mr Mumford, Chairman of the Council, said of the Council flag that it was to "place the Council on a par with other local authorities." He said that their flag will portray the Council's commitment to "the social as well as the economic well-being of the Islands." Clive Mumford explained in iThe Cornishman/i that "flags are very much a part of civic pride in local government around Europe."
The Scillonian Cross: A symbol of the community
We persued with the Scillonian Cross to make it recognised in the Islands as a symbol for the community - unlike the Council, who made their flag a symbol for their civic organisation. The Scillonian Cross was to be the Islands' flag for the entire community. Advertising it on Scilly News made it recognisable to many SN readers. It also became recognised by vexillologist web site "Flags of the World" as one of the two flags for the Islands.
See also
External links
So, how do you get a Scillonian Cross? …ring the last orders bell.