According to the Home Office, as they understand, there is no legislation defining what makes a flag official.
Isles of Scilly Council's flag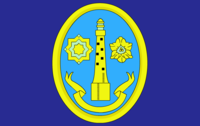 The Council of the Islands have created a flag for Council use, a pennant of which is sold at the Tourist Information Centre. It includes their logo and motto in light blue on a dark blue background.
The motto on the flag is the Council's motto: "Semper Eadem" which means 'always the same'. The logo on the flag has the Bishop Lighthouse in the centre, with Star Castle, an old listed building on the Islands, in the top left of the elipse and a daffodil in the top right, one of the most synomonous flowers to the Islands. The logo is based on the chain worn by the Chairman of the Council.
The flag is nicknamed "Old Smiley" because of it's similarities to a smiling face when observed from a distance.
A Mr Scilley from North Dakota bought the flag from the Tourist Office, for obvious reasons. "It's surprising," said Chairman of the Council, Dudley Mumford. "We anticipated interest in the pennant from the likes of visiting yachtsmen but North Dakota…"
###Outlets
Scillonian Cross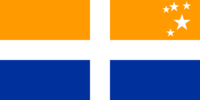 The Scillonian Cross was developed in early 2002 by Scilly News's readers to represent the Islands. It was designed as a flag to represent the Islands for the community.
See our page on the Scillonian Cross.
Outlets
The Scillonian Cross can be found locally at Rat Bags, online at MrFlag.com and incorporated into clothing at Zazzle.
Flag
Clothing
The Real Flag?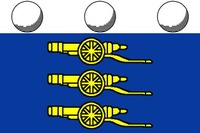 FOTW.net has a design for the 'Isles of Scilly Flag'. It claims that it is based on the old 'Board of Ordnance'.
It is thought that this flag was left behind when the Board of Ordnance left the Islands. This is why we still want to develop a flag which is unique to the Islands.
The flag is on display in the Ordnance museum in the Tower of London and formed the basis of the Royal Army Ordnance Corps flag, prior to its disbandment - it now forms an integral part of the Royal Logistics Corps Badge Thanks to Melvin Roberts, FOTW.net and Martin Curtis.
See also
Other References