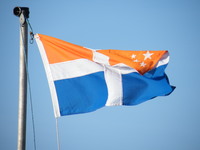 The Scillonian Cross was developed in early 2002 by Scilly News's readers to represent the Islands. It was designed as a flag to represent the Islands for the community.
The Beginning
In late January, we at Scilly News decided to develop a design with the help of the public's votes. One month, three ballots and 400 votes later, we declared the Scillonian 'Island' Cross the most appropriate design.
The Scillonian Cross is a design for the county - please use it as you wish. The Scillonian Cross is released under CC0.
The Design
When designing the Scillonian Cross, we were keen to recognise Scilly's strong Celtic heritage. It is popular belief that Scilly continued it's Celtic traditions until as recently as 400 years ago. Scilly's St Lide was a prominent Celtic figure.
The main feature is the central cross that is similar to the Celtic cross (right), celebrating the Islands strong Celtic heritage.
The five pentacles (five-pointed stars) represent the Islands' location and size. Pentacles are Celtic symbol of protection, which is relevant for the Islands as they have been an important strategic position for Britain's defenses, especially during the wars with Spain.
White was chosen because it is a strong and symbolic colour, emphasising the properties the cross and stars represent. Some believe it also symbolises 'purity and innocence'.
The orange represents a fireglow sun set for which Scilly has become famous. The blue represents the oceanic waters that encompass the Islands, which are such an important aspect of Scillonian life.
Flag Construction
Flag width:height ratio of 2:1
White cross (#FFFFFF)
Horizontal stripe height ratio of 2:1:2 (1/5th)
Vertical stripe width ratio of 9:2:9 (1/10th)
'Flag' orange (#FF9A00) in top (hoist and fly)
Teal-blue (#00309C) in bottom (hoist and fly)
White stars (#FFFFFF) in right-half of top fly
Main-star-width (St Mary's): width-of-cross ratio of 3:4
Other stars placed in approx. positions that the Islands lie, with St Martin's brought more central
Smaller star widths relative to St Mary's -

Tresco 12:20
St Martin's 10:20
St Agnes 10:20
Bryher 9:20
Vote Results
Vote One
Before vote one, we suggested a Australian-like flag, but were concerned that: firstly, it used the Union Jack, which we were not sure whether we would be able to use; and secondly that it was just too similar to the Australian or New Zealand flag to be identifiable as unique. This consideration was included in vote one.
Deciding the components that should be used on the flag.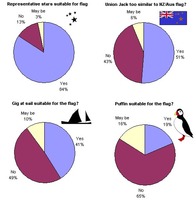 Clearly the stars were the most popular choice, and the puffin and gig were more unpopular than popular. Probably the designs were considered too complicated to be used on a flag.
Vote Two
Deciding the final flag.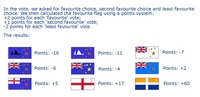 The amount of votes received for the Scillonian Cross far exceeded any of the other flags, and was soon declared the winner.
BBC Devon Try To Find A Flag For Devon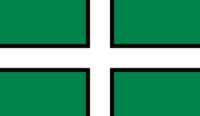 BBC Devon has lead a similar project, attempting to get some agreement for a flag for Devon.
Dewnans explains why a Devon flag is important - it can be all of the following:
an easily recognised icon for Devon;
a representation of Devon's identity and of its people;
a symbol for promoting Devon products;
a symbol to promote tourism to Devon;
a sign of pride in Devon and being Devonian.
Scilly News had similar aims.
See also
Other References